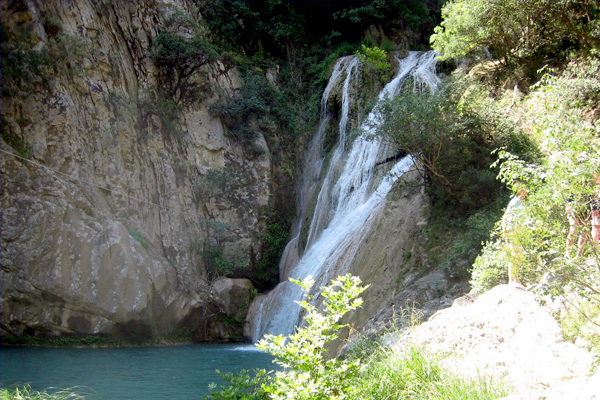 Activities around Stoupa.Excursion to Taygetos
Visit the village Lefktro east of Stoupa, where the castle stands.The traveller Pausanias mentions that there was the temple of Athena with her statue. During the Frankish castle was rebuilt and attributed the name Beaufort, meaning "nice castle".
It is worth visiting the abandoned coal mine in New Prastova Suburb, where Nikos Kazantzakis worked with Alexis Zorba.The wild beauty of Taygetos fascinates the visitor. The steep slopes, caves and gorges create a beautiful mountain landscape. Sports enthusiasts and mountain can go cycling, hiking and mountaineering, following unique mountain routes.
Diros Cave
One of the most beautiful caves in the world
The locals knew about its existence since 1900, but could not understand, as do other moreover, the unspeakable beauty hiding. In 1949, the founders of the Greek Speleological Society have started to explore and by 1960 had explored and mapped around 1,600 meters, while today we know that the length of the cave is over 15 km.
The temperature in the interior of the cave ranges from 16 to 20oC, while the water temperature does not rise above 14oC. The cave began to form before hundreds of thousands of years, with stalactites and stalagmites now appear under the surface of the sea, formed when the level was at much lower levels than it is today.
The visit to Diros Cave is done with small boats where the boatman made and guide, describing the history of a lake 1.200 meters and the track traveled on foot does not exceed 300 meters. The total duration of the visit is 40-45 minutes. Next to the Diros Cave lies the Neolithic Museum, which exhibits priceless in historical value, findings from Palaeolithic times.
Informations:
Caves of Dirou: Opening hours: 08:30-17:30.
Phone: (+30) 27330 52222-3.
Diros Neolithic Museum: Opening hours: 08:30-15:00, closed on Mondays.
Phone: (30) 52 233 27330